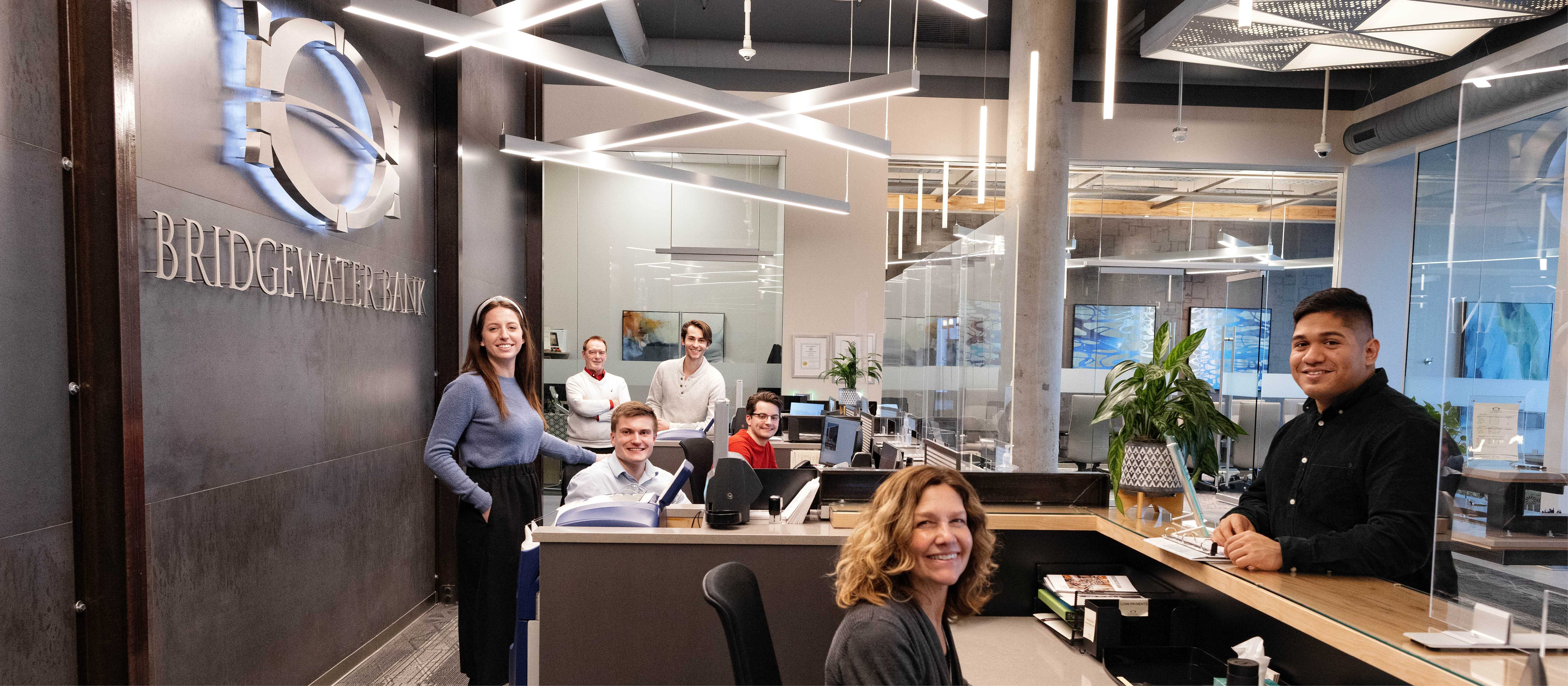 Team Members, Clients & Communities
Leverage our unconventional culture to leave a positive lasting impact on our team members, clients and communities.
Our Unconventional Culture
Bridgewater's unconventional corporate culture is driven by the entrepreneurial spirit our people demonstrate every day. This culture has become a true differentiator for how we attract and retain talent, provide responsive service for our clients and support our communities.
Unconventional
Our clients notice a difference.
Responsive
Under promise. Over deliver.
Dedicated
Don't stop until you get it done.
Accurate
It's more than just an expectation.
Growth
If you aren't moving forward, where are you going?
Investing in Our Team Members
Our Philosophy
Despite today's highly competitive job market, we have been very successful in attracting and retaining top talent. In fact, we had 246 full-time equivalent employees as of December 31, 2022, a 12% increase from a year ago. Our collaboration-focused corporate culture has been a big reason why. How do we know this? Because our team members have told us that our culture truly sets us apart. At Bridgewater, our people are always top of mind.
A big part of this has been our Bridgewater Corporate Center that opened in August 2020. With a modern, open design and an entrepreneurial focus, it is tailor-made for team building and collaboration.
Our workplace culture has been recognized as a "Top Workplace" by the Star Tribune and as a "Best Bank to Work For" by American Banker.
Team Member Development
Being an entrepreneurial local bank, our team members are often asked to wear many hats. As a result, we pride ourselves on providing ample opportunities for team members to develop and expand their skill sets within their roles. Through our training, development and continuing education programs, both Bridgewater and our team members benefit through internal advancement within the organization.
One example of our investment in training and development is our partnership with Franklin Covey to provide training offerings, tools and resources with a focus on leadership development for managers at all levels. This is in addition to our generous training reimbursement program for all team members.
We also have a Mentorship Committee which opens doors for team members to get professional advice and constructive communication from leaders at all levels of the organization. The program provides participants with ways to build leadership skills, learn from others outside of their normal department, and continue to grow both personally and professionally.
In 2022, Bridgewater launched an internship program that strives to provide students the opportunity to apply the knowledge and skills learned in school to real life work within our organization. During the year, 14 interns had the opportunity to work side-by-side with Bridgewater team members collaborating new ideas that fit our vision.
Beginning in 2023, Bridgewater will debut a Leadership Development Program focused on delivering meaningful content to leaders that support their development and growth in areas of crucial conversations, empowering team members, navigating change and learning about the 7 Habits of Highly Effective People.
Compensation and Benefits
We are focused on aligning team member compensation with both the performance of the bank and the individual. One way we do this is through annual discretionary bonus opportunities that are available for all team members, regardless of level. This is in addition to our competitive benefits package that includes comprehensive healthcare (medical, dental and vision), 401(k) matching, and a gym membership stipend.
Health and Wellness
Our established Health and Wellness Committee focuses on promoting physical fitness, nutrition and mental health across our organization. During 2022, events sponsored by the Health and Wellness Committee included skiing, climbing, paddleboarding, and a step challenge, just to name a few. The committee even posts a series of healthy recipes on a monthly basis!
With the increased focus on mental health, the Health and Wellness Committee began providing all team members with free access to a mindfulness app in 2021. Through science-based meditation and mindfulness tools, the app provides our team members with hundreds of exercises for meditation, sleep, focus and movement.
The Health and Wellness Committee also hosted a series of mental health-related events, including a Mental Health 101 Lunch & Learn in which industry professionals shared insights on how to manage mental health and to identify the early signs and symptoms of mental health diagnoses. Meanwhile, in our first Health & Holidays event in December 2022, team members were able to relax and get rid of some stress during the holiday season through a free 15-minutes massage right at the branch or by snuggling up with therapy pups from a local animal shelter.
In addition, we have been very open to providing workplace flexibility for team members in light of the post-COVID-19 landscape. Bridgewater returned to the office in June 2021, but in a hybrid model, with most team members having the flexibility to work remote. We recognize the importance of having this flexibility while also emphasizing the benefits of the in-person workplace culture that is unique to Bridgewater.
Team Building Initiatives
Team building and networking is another focus of our culture as deepening relationships help create a more positive work environment. One way we do this is through frequent team member social events, including the following:
All-team meetings
All-team training days
Committee-sponsored happy hours
Family Day
Holiday party
Take Your Child to Work Day
Individual department outings
Employee Engagement
Annual employee engagement surveys are an important way for us to identify what is working and what might not be working with our team members. Our Strategic Leadership Team, along with Human Resources, use the results of the surveys each year to prioritize initiatives to enhance our overall team member experience. An area of opportunity for Bridgewater is to continue evaluating benefit offerings to ensure they remain aligned with changing team member and applicant expectations.
Serving Our Clients
Client Experience
Bridgewater is committed to serving the diverse needs of commercial real estate investors, entrepreneurs, business clients and successful individuals in the Twin Cities area through a wide range of financial products and services. We do this through a service model built on responsive support and simple solutions. With deep expertise and strong network connections in the Twin Cities, we have become a local bank of choice in a market where many local banks have left in recent years. As we tell our clients, "not all is lost in local banking" with Bridgewater Bank.
Being a local bank in the Twin Cities, we take great pride in our ability to develop and maintain strong relationships with our clients, which results in a high level of client satisfaction. We know our clients by name and our clients know who their point of contact is at Bridgewater. Knowing our clients personally deepens our relationship and is a big reason why over 30% of deposit accounts opened by new clients in 2022 came directly through referrals. This is what it means to truly be a local bank.
Our Proven Process

1. Discover: With a can-do spirit and local presence, Bridgewater Bank is preferred by successful entrepreneurs and individuals who value responsive support and simple solutions.
2. Onboard: As entrepreneurs ourselves, we anticipate and understand the financial needs of our clients and provide simple, creative solutions to solve them.
3. Execute: Local banking means local decision making. We value action and decisiveness and work quickly to ensure that our clients never miss an opportunity.
4. Support: In-person, online and everywhere in-between, our local team is available to meet our clients' financial needs and exceed expectations.
5. Network: When a client join Bridgewater Bank they join more than a bank—it's a network.
Accessibility
We are always looking to do the right thing to make banking at Bridgewater fair and accessible for our clients. This includes refraining from using deceptive or misleading marketing or advertising practices and Compliance and Marketing working closely to ensure all banking regulatory requirements are met.
We also regularly monitor our website to identify and document our continual efforts in ADA Site Accessibility Compliance. With the support of a third-party website governance service, Bridgewater's website (bwbmn.com) had an accessibility score of 88.5% as of December 31, 2022, above the industry benchmark of 82.8%. Our marketing team is continually working to make back-end enhancements to improve the website's overall accessibility, while Compliance monitors the accessibility on a quarterly basis.

Our Clients Say It Best
Don't take our word for it. Here are some of the things our clients are saying:
Contract Interiors, Inc.
"Bridgewater Bank is able to provide a complete banking experience. Their knowledge and dedication to partnership makes them stand out in their industry. They give confidence to the banking process and provide outstanding service and support."

Client Since 2021
Alliant Engineering, Inc.
"Bridgewater has all the banking products we need to achieve our goals for maximizing return while minimizing risk, and the proactive service we receive from our Bridgewater team is exceptional."
Client Since 2021
Recognized for Serving Our Clients
Bridgewater also continues to receive recognition for the unconventional and responsive level of service we provide to our clients. In 2022, we were recognized by both Twin Cities Business and Finance & Commerce.
Twin Cities Business – Best Business Bank
Finance & Commerce Reader Rankings – Best Business Bank / Best Small Business Bank / Best Commercial Mortgage Lender

Supporting Our Communities
A Commitment to Community Development
As a local Twin Cities bank, Bridgewater takes great pride in giving back and supporting the ongoing development of the communities we serve. We have strong leadership and oversight of these efforts through our Community Reinvestment Act (CRA) Committee, which was formed in 2013. The CRA Committee focuses on working with non-profit organizations contributing to housing and education initiatives in our community, including low-to-moderate income areas, while also identifying innovative and flexible lending, investment and volunteer opportunities.
Beginning in 2021, the CRA Committee furthered its commitment by formalizing a series of internal goals, which include CRA lending as a percent of total loans; CRA investments as percent of total investments; volunteer hours and total team member involvement; and CRA-related contributions.
In 2023, Bridgewater Bank again received the highest possible rating, "Outstanding," from the Federal Deposit Insurance Corporation (FDIC) for its CRA examination period ending January 2023. This rating reflects Bridgewater's work in meeting the credit needs of Twin Cities' communities, including low- and moderate-income neighborhoods, through its continued emphasis on affordable housing initiatives.

Below is an overview of the impact we made in our communities in 2022:
Community Development Lending
Bridgewater is active in community development lending in areas including affordable housing and revitalization or stabilization. We also provide financing for Low Income Housing Tax Credit (LIHTC) properties to incentivize development. Examples of recent projects include:
St. Louis Park, MN: $2.8M loan for the purchase and rehab of a 23-unit apartment building
Minneapolis, MN: $3.3M loan to renovate historic building with tax credits in downtown consisting of 13 units and a commercial space
Plymouth, MN: $7.3M loan for the purchase of a 64-unit low income apartment building


Contributions and Events
Each year, Bridgewater Bank makes various financial contributions to CRA-qualified causes in the areas of affordable housing, community service and education. These contributions often include sponsorships of impactful local events supporting the important work of these non-profits.


Volunteerism and Financial Literacy
In addition to financial contributions, Bridgewater Bank encourages all employees to volunteer their time to serve the community through initiatives including housing and financial literacy.
In fact, through our unique Volunteer Time Off program, we create community engagement opportunities for team members that are meaningful, purposeful and help those in need. As part of this program, all full-time team members receive up to 16 hours of paid time off per year for any volunteer opportunity meeting CRA requirements.
Financial literacy programs are of special interest to us given our role as a local bank in the community. We recognize the importance of educating students on key financial principles and preparing them with strong financial habits when they get out on their own. We have demonstrated this commitment through our volunteer support of community partners including BestPrep and Junior Achievement.


BestPrep


Prepares students with business, career and financial literacy skills through hands-on experience that inspires success in work and life.
Junior Achievement


Uses proven lessons in financial literacy, work and career and entrepreneurship to inspire and prepare young people to succeed.
Internal Blood Drive


In December 2022, Bridgewater team members volunteered to roll up their sleeves in support of the American Red Cross by donating blood during our second annual blood drive. Bridgewater team members donated enough blood to save over 80 lives.
Ready for something 
unconventional?