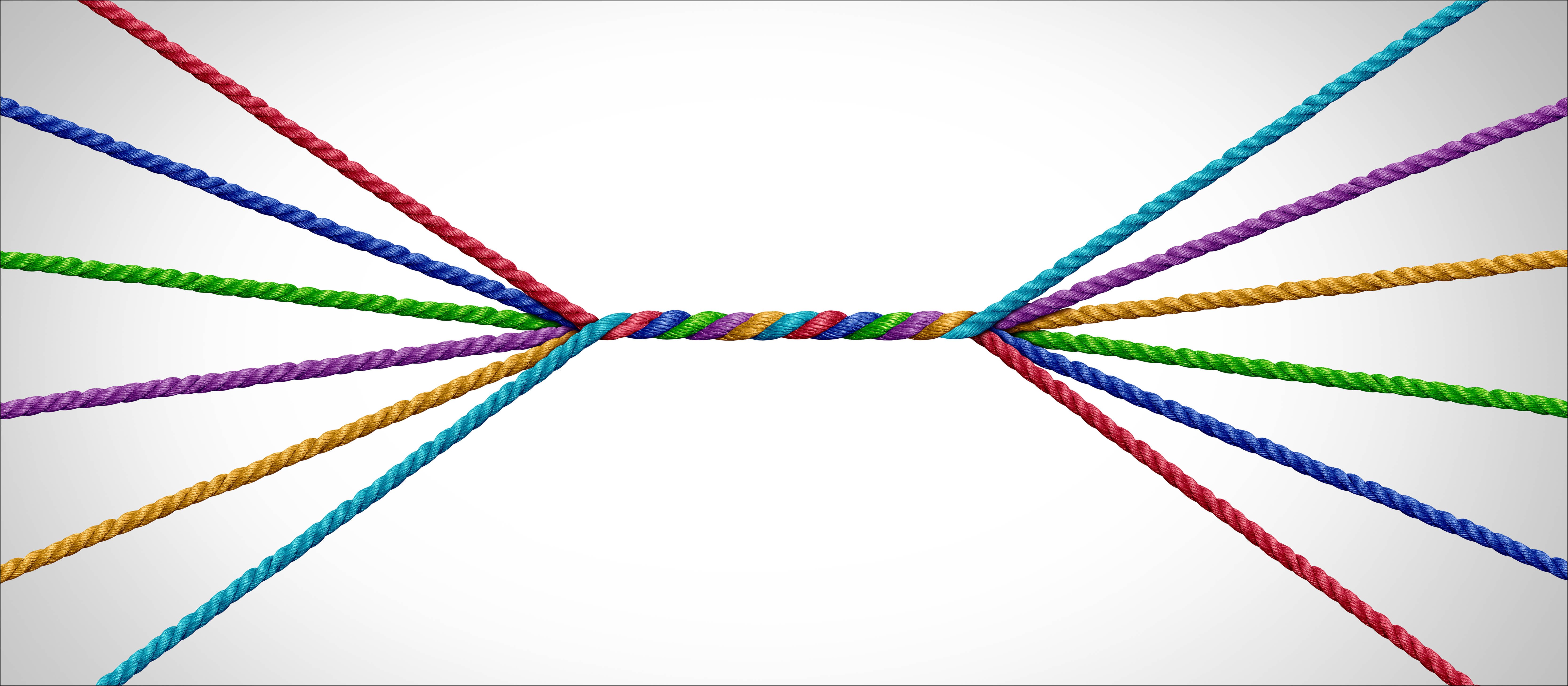 Diversity, Equity & Inclusion
Create a diverse, equitable and inclusive work environment and community.
A Commitment to Diversity, Equity and Inclusion (DE&I)
Bridgewater Bank recognizes that different perspectives enhance our thinking and improve our team members' experience by bringing together unique backgrounds, beliefs and cultures. With operations centered in the Twin Cities market, we are committed to doing our part to promote diversity, equity and inclusion in the workplace and our broader community.
DE&I Committee
In 2019, Bridgewater Bank established a DE&I Committee which aims to build an inclusive culture that encourages, supports and celebrates the diversity of our team members and communities in which we live and work. The committee is made up of 10 team members from various levels and functions across the organization. It is structured into three teams to provide diversity awareness to the broader employee base by way of education, communication, and service within our community.

DE&I Book Club
In 2022, the DE&I Committee hosted its second annual Book Club featuring Uncomfortable Conversations with a Black Man by Emmanuel Acho. Nearly 60 team members participated in the book club, engaging in the tough conversations and scenarios we face in America today. This follows our first Book Club in 2021 which featured Talking to Strangers by Malcolm Gladwell.
Featured Holidays
Each month, the DEI Committee strives to internally communicate and recognize diverse events and holidays in an effort to increase our cultural knowledge and create a more inclusive work environment for all of our team members. This is done through educating our team members about various holidays and how these holidays are observed. The benefits are endless – from creating more productive relationships to making more insightful decisions.
Below are the holidays we are recognizing this month:
National Native American Heritage Month- November 1st-30th
Veteran's Day- November 11th 
Diwali- November 12th-16th 
International Day for Tolerance- November 16th 
International Men's Day- November 19th 
Transgender Day of Remembrance (TDOR)- November 20th 
Unconscious Bias Training
As another way to enhance our DEI culture, we offered our first unconscious bias training in 2020 as part of our leadership development program. In 2022, Franklin Covey facilitated training on unconscious bias for all managers. The training offered a principle-based and practical approach to identifying and addressing unconscious bias in our everyday life. It does so by going beyond simply raising awareness to helping participants build practical skills that let them recognize unconscious bias in action and counter its potentially harmful effects.
In addition, the DE&I Committee hosted Joelle Allen of Interaction Traction to discuss implicit bias during an All-Team Meeting in August 2022. As part of the discussion, Joelle highlighted the five things to know about implicit bias:
Diversity and inclusion is a key issue of our time. Getting it right is a societal, organizational, economic and human priority.
It's time to expand our definition of diversity.
Do a bias check on decision making to reduce implicit bias.
Accept that others have legitimate, evidence-based difference in perspective for how they view the world and how the world views them.
Practice good allyship and speak up when it counts.
In total, nearly 90% of Bridgewater team members participated in the event.
Celebrating Juneteenth
Beginning in 2022, we were pleased to recognize Juneteenth as a bank holiday as we celebrated the anniversary of the end of slavery in the U.S. In observance of Juneteenth, team members received paid time-off and our branches and offices were closed. We plan to continue recognizing Juneteenth annually going forward.
Take Your Child to Work Day 2022
Unlike a traditional Take Your Child to Work Day, Bridgewater kids joined the DE&I Committee for the day instead of shadowing their parents. With nearly 50 children in attendance, the day included four different sessions that focused on finance and different viewpoints throughout the world. There was an extra emphasis on the importance of education and inclusivity. Topics included:
Savings and budgeting for kids
My first bank account
Foreign currency and exchange rates
Starting your own bank account (i.e. being an entrepreneur)
Learning Library
In October 2022, the DE&I Committee introduced the Learning Library, a positive place where interested team members can learn and see what Bridgewater values when it comes to diversity, equity and inclusion. The DE&I Committee believes in the power of the pen. By having written, accessible records of learning resources, we hope to provide a powerful instrument for building a culture that embraces diversity. The Learning Library is updated quarterly and found on the Bank's intranet.
All-Team Happy Hour Event
The DE&I Committee sponsored an after-work, all-team member happy hour event with the theme of Food, Culture and Inclusivity. Local and authentic food was provided by Andale Taqueria and Pimento Jamaican Kitchen with live music performed by Tamas Majoros (aka, Tomi Ttime), who emigrated from Budapest, Hungary and now calls the Twin Cities home. Finally, a Bridgewater Family cookbook was created from recipes submitted by various team members. Approximately 45% of Bridgewater team members attended the event.
Workplace Diversity
At Bridgewater, we believe our team members bring unique perspectives to their roles every day that define the culture of the organization while also allowing us to better serve the diverse needs of our client base. We are proud of the diversity we have across our workforce today:



As Bridgewater continues to grow, we are focused on attracting and retaining top talent across the organization that fits our unconventional corporate culture. Building and maintaining a diverse workforce is an important piece of this culture. We are committed to seeking out and identifying training content, recruitment initiatives, employee resource groups and community groups that support diversity and awareness at Bridgewater.
Women in Leadership
Bridgewater has demonstrated an ability to hire, retain and promote talented women throughout the organization, including in leadership roles. These women are being recognized for the leadership in the banking industry.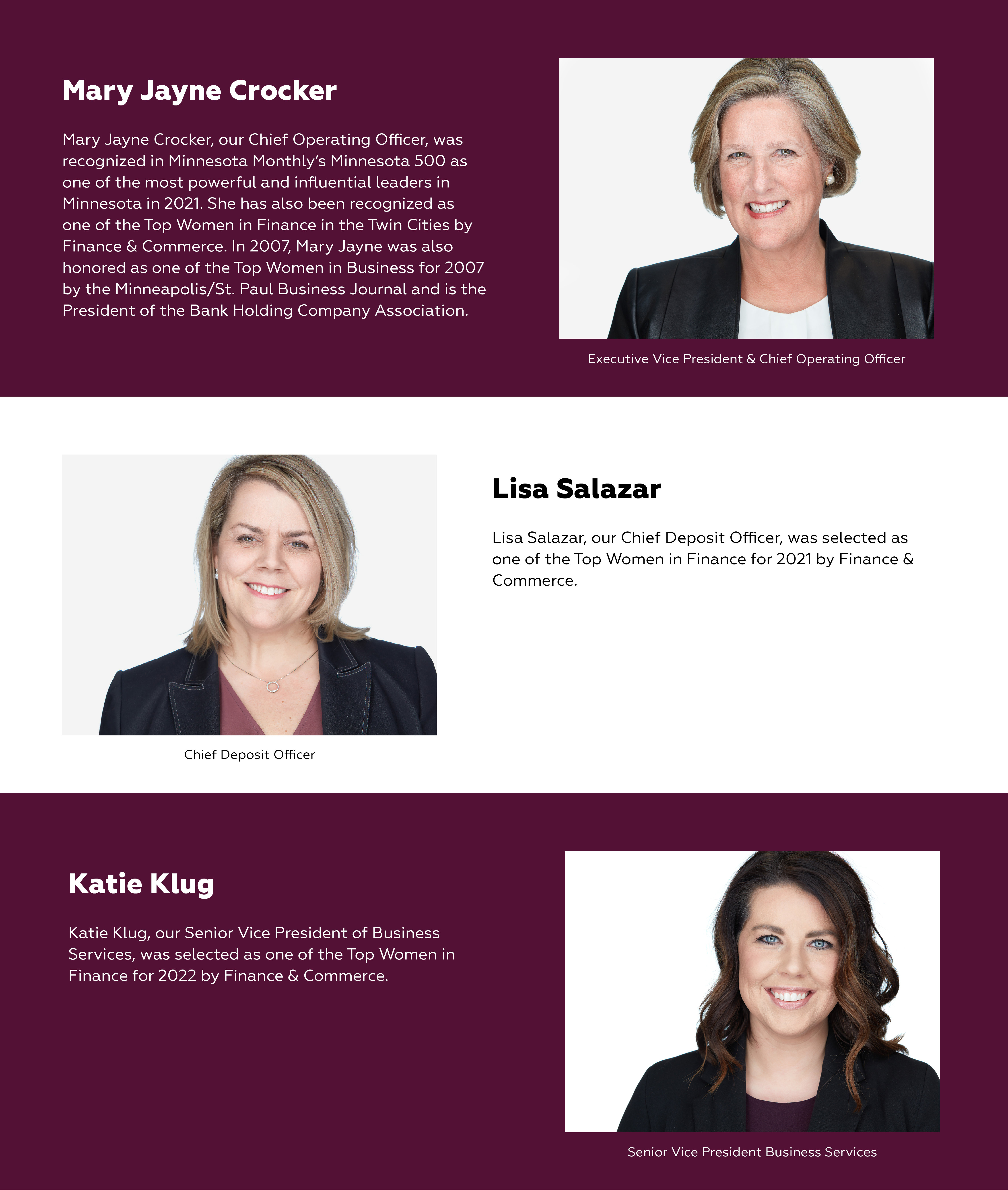 Bridgewater also hosted a "Brunch & Bubbly" event in 2022 to honor the women of Bridgewater. As part of the event, we packaged self-care boxes for Twin Cities women in need while also hearing from a guest speaker on financial empowerment for women.


DE&I in the Community
Corporate Work Study Program with Cristo Rey Jesuit High School
In 2022, Bridgewater partnered with Cristo Rey Jesuit High School on the Corporate Work Study Program, which provides students with an educational experience through regular work assignments in a professional corporate setting. The program supports workforce development challenges by advancing diverse candidates with the social and technical skills to perform the jobs of our knowledge-based economy.
As part of the program, Bridgewater employed four Cristo Rey students in Marketing, Facilities and Deposit Services roles. The program has benefited Bridgewater by bringing new perspectives to the workplace and creating a pipeline for future talent acquisition.
BridgewatHER Network
Formed by women for women, the BridgewatHER Network provides sophisticated women in business who live and work in the Twin Cities and value strong network connections an opportunity to build professional relationships, share in new experiences and exchange ideas. The group is led by Mary Jayne Crocker, Bridgewater's Chief Operating Officer, and includes approximately 175 female entrepreneurs and business leaders. Events in 2022 included pickleball, charcuterie board and wine tasting workshop, and a gratitude gathering, including packaging self-care boxes for women.
Lake Street Taco Tour
Bridgewater, along with the DE&I Committee, sponsored the 2022 Lake Street Taco Tour hosted by the Latino Economic Development Center. The Taco Tour celebrates Hispanic Heritage month and supports Latino-owned small businesses on Minneapolis' Lake Street.
Twin Cities Pride Beer Dabbler
Fifteen Bridgewater team members celebrated pride at the Minneapolis Sculpture Garden in June 2022, with complementary tickets provided by Bridgewater. Twin Cities Pride empowers every LGBTQ+ person to live as their true self as we value and celebrate pride throughout Minnesota.
Ready for something 
unconventional?